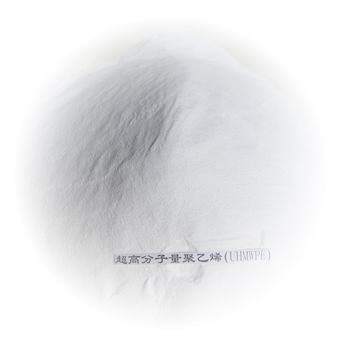 Ultra high molecular weight polyethylene is abbreviated as UHMWPE. UHMWPE generally refers to polyethylene whose relative molecular weight is above 1.5 million (relative molecular weight of common polyethylene is only 20,000-300,000). Due to ultra-high molecular weight, UHMWPE is a new engineering plastic with very excellent properties which the common polyethylene does not have.
Excellent properties of UHMWPE:
1, wear resistance:
Wear resistance of UHMWPE is the highest among the plastics, which is several times that of the carbon steel, brass (see figure 1).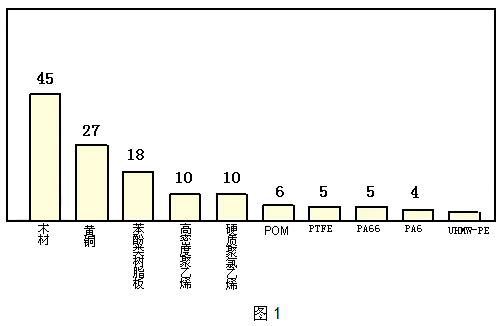 2, impact:
When the molecular weight reaches 1.5 million, the impact strength of UHMW-PE reaches the maximum value which is the highest value among the existing engineering plastics. It still has relatively high impact strength even at -70℃. See figure 2 below, comparison with the impact strengths of other engineering plastics.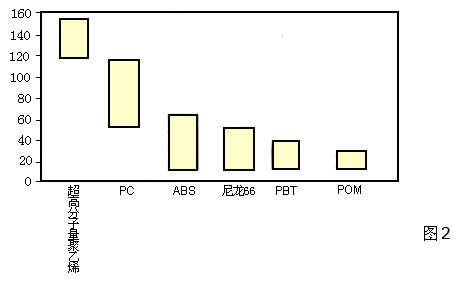 3, Self lubrication:
As UHMW-PE has an extremely low friction coefficient (0.1-0.22), its self lubrication is excellent. As it can be seen from table 1 below, dynamic friction factor is 1/2 of PA66 and POM under water lubrication conditions. When UHMW-PE and steel, copper pairing are used, it is difficult to produce adhesive wear, and wear on mating parts is small. Therefore, UHMW-PE is known as the friction material with extremely ideal cost performance in the field of friction.
Name

Dynamic friction factor

UHMW-PE

0.10~0.22

0.05~0.10

0.05~0.08

PTFE

0.04~0.25

0.04~0.08

0.04~0.05

PA66

0.15~0.40

0.14~0.19

0.06~0.11

POM

0.15~0.35

0.10~0.20

0.05~0.10
4, chemical resistance:
UHMWPE has excellent chemical resistance and can bear various corrosive media, such as, acid, alkali, salt (unstable in concentrated sulfuric acid, concentrated hydrochloric acid, concentrated nitric acid, halogenated hydrocarbon and aromatic hydrocarbon and other solvents) in a certain range of temperature and concentration, except strong oxidizing acid. UHMWPE appearance has no anomalies after dipping in other 80 kinds of organic solvents at 20℃ for 30 days, and other physical properties are almost unchanged.
5、Impact energy absorption:
UHMWPE has excellent impact energy absorption, its impact energy absorption value in all plastics is the highest. Therefore, the noise damping is very good and it has good silencing effect.
6、Low temperature resistance:
UHMWPE has excellent low temperature resistance which is the best among the existing plastics. It still has ductility at liquid helium temperatures (-269℃); therefore, it can be used as low-temperature component, cryogenic pipeline and low-temperature resistant parts of nuclear industry.
7、Healthy and non-toxicity:
UHMWPE is healthy and non-toxic, fully meets the standard of Japan Health Association and obtains acceptance of USA Ministry of Agriculture of U.S. Food and Drug Administration, and can be used for contacting the food and drugs.
8、Non-adhesion:
Surface adhesive force of UHMW-PE is very weak, its anti-adhesion ability is second to PTEF whose non--adhesion is the best in plastics. Therefore, surfaces of UHMW-PE products are not easy to stick to other materials.
9、Water absorption:
Water absorption rate of UHMW-PE is very low, which is generally less than 0.01% and 1% of PA66. Therefore, drying is not necessary before molding, and products' dimensional changes in humid environments will not occur due to water absorption, also it will not affect the precision and wear resistance and other properties of the products (table 2).
| | | | | | | |
| --- | --- | --- | --- | --- | --- | --- |
| Material Science | UHMW-PE | PA66 | PC | POM | ABS | PTFE |
| water absorption | <0.01 | 1.5 | 0.15 | 0.25 | 0.20-0.45 | <0.01 |
10、Density:
As density of UHMW-P is lower than that of other engineering plastics, its products are very light (table 3)
| | | | | | | |
| --- | --- | --- | --- | --- | --- | --- |
| Name | PTFE | POM | PBT | PC | PA | UHMW-PE |
| Relative density | 2.12 | 1.41 | 1.31 | 1.20 | 1.02-1.14 | 0.945 |
11、Other properties:
Electrical property of UHMW-PE are also more excellent than that of HDPE, and resistance to environmental stress cracking resistance and fatigue resistance of UHMW-PE are better than these of HDPE.
Common property indexes of ultra high molecular weight polyethylene (table 4):
Classification

Project

CHMWPE

ASMT

Physical property

Molecular mass / million

200

D2857

Density

0.93

D1505

Powder density

0.46

D392

Grain size

100~200

-

Mechanical properties

Fracture strength

40~45

D638

Elongation rate

300~400

D638

Bending modulus

600

D747

Impact strength

> 140

D250

Rockwell hardness

40~60

D747

wear volume

70

D1175

thermal property

Melting point

136

D2117

Thermal deformation

85

D648

Coefficient of linear expansion

1.5~2.5

D696

Thermal conductivity

8.5

D177

Electrical properties

Volume resistivity

10

D257

Breakdown voltage

50

D149

Dielectric constant

2.3

D150