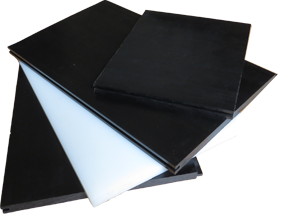 Ultra high molecular weight polyethylene(UHMWPE) buckle
Ultra high molecular weight polyethylene(UHMWPE) buckle plate of composite reinforced high wear resistance, high corrosion resistance and self lubrication can be used to make the inner lining board of the cargo hold of oil tanker and the ship, lining of large slide block, bogie truck, dump truck, train compartments and car compartments, lining of hopper, stock bin and spout for storing powdery materials, such as coal, cement, lime, mineral powder, salt, grain. As it has excellent wear resistance, self lubrication and non-adhesion, the above powdery materials will not stick to the storage and transportation equipment; especially, in cold conditions, its superior performance can be demonstrated, and it can improve transportation efficiency.
Service life of ultra high molecular weight polyethylene(UHMW-PE) is higher than that of steel. Its wear resistance is 4-7 times that of the carbon steel and stainless steel. UHMW-PE has the characteristics of small friction coefficient, self lubrication, no water absorption, no bonding materials, high intensity of impact resistance, good mechanical properties, acid-, alkali-, salt-corrosion resistance, good anti-aging properties, low temperature resistance, healthy, non-toxic, light weight and the proportion of 1/8 of the steel. Therefore, it is the best material for the lining of equipment for storing and transporting bulk materials, such as storage bin, launder; and it is widely applied in electric power, steel mill, coal mine and other industries.