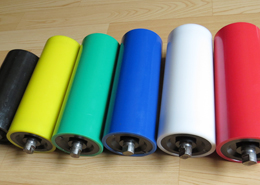 Ultra high molecular weight polyethylene (UHMWPE) roller is a kind of high-tech product which is composed of ultra high molecular weight polyethylene pipe, metal bearing, metal shaft, plastic bearing seat and sealing ring. Compared to metal roller, UHMWPE roller has many obvious advantages in operational performance.
UHMWPE roller has good self lubrication, wear resistance and non-adhesion; therefore, materials will not adhere to or accumulate at the roller surface; and the roller surface is also difficult to scale. In addition, low friction coefficient of UHMWPE greatly reduces the friction between the roller and the tape. In case it cannot function normally, "bite" belt accidents will not occur.
Due to flexible and smooth running, low driving power consumption, UHMWPE roller can effectively reduce the belt beating, deviation, overflow, material dropping and belt wear phenomena in the conveying process. Due to small density, weight of UHMWPE roller to be generally 1/3 that of the same size metal roller, and easy to install and easy to change, small moment of inertia, low noise and extremely smooth running, UHMWPE reduces labor intensity and the amount of maintenance and has significant economic benefits. Our company's UHMWPE roller with independent intellectual property rights uses bearings with sealing cover and adopts a series of optimization design of sealants, labyrinth slots and other combination sealing technologies among rollers, bearing seats and steel shafts, making waterproof, dustproof effects more significant.
UHMWPE roller specifications: diameter (mm) 89,102,108,127,133,152,159, length (mm) 190 ~ 2500. UHMWPE rollers are widely used in sites with large dust, strong corrosive nature and extremely harsh conditions, such as mine, coal mine, port, power plant, steel mill, cement plant, coking plant, soda and fertilizer plants and other special sites, and the rollers have extremely high cost performance.
Our company can also increase wall thickness, change the support structure to improve the bearing performance conveyed by UHMWPE roller and customize non-standard type rollers according to customer's special requirements.

Specifications of part of the UHMWPE rollers:
strip width

Roller diameter

Roller length

strip width

Roller diameter

Roller length

300

63.5,76,89

160,380

1200

108,133, 159




465,700,1400

400

160,250,500

1400

530,800,1600

500

200,315,600

1600

133,159,194

600,900,1800

650

76,89,108

250,380,750

1800

670,1000,2000

800

89,108,133

315,465,950

2000

750,1100,2000

1000

108,133 159

380.600,1150

2200

800,1250,2500
Application Notes:
1. Prevent sharp objects from carving on the roller surface;
2. It should not be used at ambient temperature above 60 ℃ ;
3. Do not use external forces to destroy the structure, then cause the firmware to be loosen.